I have been selected to speak at the next confoo web conference about
"Empowering IT with Real Users Analytic"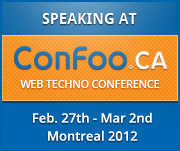 Webapps monitoring landscape is changing. As pointed out by Garnter, IT needs simplified monitoring and Google Analytics can now measure page load times.
As more and more businesses rely on them, techniques such as real time user monitoring, incident detection and root cause analysis have become critical. While been the Holy Grail to users, webapps are a nightmare for engineers as ensuring quality of service becomes more difficult.
More and more companies are starting to realize that they are losing significant revenue, growth and productivity due to down time, high latency and scaling issues with their web applications. Quality of Service guarantees with built-in penalties are becoming the norm, bringing a downside into the equation.
We will present these new problems in detail, followed by a short history of techniques used to measure and estimate the quality of web-based applications. We will review the most popular monitoring technologies, pointing out their pros and cons.